Wallet for the boys or man in your life!
Who doesn't love an amazing wallet? I saw this easy tutorial and knew that I had to share it with you! I pinned this to pinterest around Christmas time and while searching for boy ideas stumbled across it again. I love Pinterest just for that reason. You can stuff all the things that you might want to look at again in one place and they fall back out just when you need them. Much easier than trying to look through my favorites.
One of the things that I love about wallets is that you can use remnants or scraps from other projects to make them.
1/4 yard fall suiting fabric (tweed, plaids, etc., usually made from wool and/or synthetic materials)
Also try home fabrics, canvas, flannel, etc or my favorite something heavy out of the closet that no one wears anymore.
1/4 yard lining fabric See ideas from above
scrap of leather (optional) Old purse from thrift store or your closet works too.
rivets, grommet (optional) The cheapest place to get this is at a hardware store instead of the craft store.
scrap of medium weight fusible interfacing or a piece of felt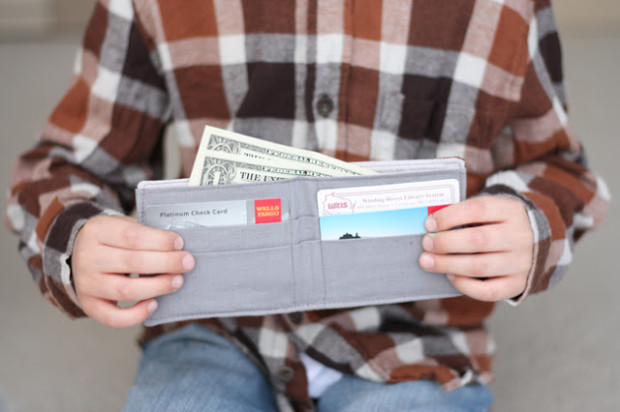 Yep this is what you will be making for those fabulous boys and men in your life. I am thinking holiday and birthday presents!
Follow this link to the step by step (with pictures!) tutorial:
http://www.noodle-head.com/2011/03/celebrate-boy-tutorial-basic-boys.html
Have fun crafting!
This is a step by step tutorial on taking an old dress shirt and creating extreme shorts for your little guys!
It is so hard to find ways to stretch a dollar when you have boys. There are tons of tutorials for little girls including making a dress from a pillowcase! Whenever I find something useful for boys I get so excited.....that might be because I only have boys....but still I get excited to know that here is something I can make and not break the bank.
Even if your significant other doesn't have a shirt that he is willing to let you cut up there are always thrift stores and garage sales to check out. Let's face it any pair of shorts this cute less than twenty bucks is exciting. And we all want our little guys to look stylish. I know when I get to the store and start checking price tags I start doing the math and my pulse goes up. When you have to purchase 5 pairs + each season for more than one little person let's face it the price tag isn't all that reasonable for a family.
This is why I love DIY ideas like this! You get to use your creative side and save money while creating something that your family needs. This tutorial is step by step with pictures and perfectly timed as Spring heats up. See you at garage sales this weekend!
She includes a link for the pattern she used and a step by step tutorial for creating these gems from craft felt.
Here is a no sew tutorial for a super hero cape. It uses 1-1 1/2 yds. of knit fabric and a ribbon. I think I would change this one just a little by tying a knot in the ribbon at each side so it didn't pull out and instead of tying the ribbon I would attach Velcro on each side so I wouldn't worry about choking.
She has amazing templates for superhero logos! She created them for the above bins but they could be attached to capes, t shirts, hoodies, jeans, and more.
Another of my favorite blogs featured this easy to make cape complete with tutorial and free pattern for sizes 2-6. She uses Velcro for easy closing and choke free fear (I always worry about this with things that tie on, could be because I have 4 boys and the things that I have seen them do give me the occasional nightmare).
Easy and inexpensive Jedi costume. May the Force Be With You
I check her blog often for design and sewing tips. Her blog is one of the only that I have been able to find that not only features amazing everyday patterns for boys but does this from infant to size 12. Most sites that with pattens for boys seem to stop at size 5. Great while they are little but you are left out in the cold once they start school.
Have fun coming up with creative uses for this pattern
A cute backpack redo!
http://www.iammommahearmeroar.net/2011/03/t-shirt-to-spring-jacket.html
How to make a t shirt into a lightweight sweatshirt!
http://www.iammommahearmeroar.net/2010/07/billabong-inspired-tee.html
I love this and the wheels or spinning on how to use this a jump to making cute t shirt designs!
http://www.iammommahearmeroar.net/2010/08/upcycled-boy-hats.html
#
What? You can make this out of old tees!
http://www.iammommahearmeroar.net/2010/06/vinyl-mustache-bib.html
Check out this easy to make and clean bib. The perfect gift?
http://www.iammommahearmeroar.net/2011/03/fake-knit-baby-pixie-hat.html
A pixie hat for a baby that is made out of a sweater you already have! Too cute.
This is an amazing tutorial on making a plain t-shirt an amazing t-shirt. She makes plain into a robot that any boy will love!
http://www.iammommahearmeroar.net/2011/11/little-man-cuffs-take-two.html
Now you can make your guy some glam cuz even boys want to decorate themselves, lol.
Your little guy needs a belt? Now you can make one!
http://www.danamadeit.com/2008/07/tutorial-the-90-minute-shirt.html
Check out this adorable t shirt remake! Take one of your hubbies old t=shirts and make your little guys something fabulous. Cut out a cute dino or batman symbol out of felt to reflect his style.
This is a must tutorial on making a simple pair of elastic waist pants for your boys. She goes through the basics of making pants, includes a pattern for size 2-3 or shows you how to make your very own pattern!
She moves you right into making the cutest pair of flat front pants for you little guy using the same pattern! Don't forget she also sells patterns on her site that are absolutely amazing.
Sheer genius adding knee pads to keep the holes at bay!
A tutorial for lining pants for your little guy! Perfect for chilly days..
I love her pants tutorials! She moves you from the basic pant and slowly you add to it. This one has pockets~I am thinking this would be super cute for Easter with a button up shirt. Hmmm. I wonder if I have any stripes in the material right now....
She even helps moms make sure the summer amazing with a shorts tutorial! I do want to remind everyone that her tutorials are not for commercial use or for making something that you well sell. These are for your use only please she has put a lot of hard work into these and into sharing on her website. She does have amazing patterns for sales that you may want to take advantage of. So much nicer to buy from a mom than to buy from a big company!
Check out these comfy shorts I absolutely love how she makes something easy that I thought would be so hard to make!
I am absolutely sure there is nothing she can not figure out how to make and explain in easy terms.
In this tutorial she also includes a couple online sources to find swim trunk material or board short material too.
Check out this incredible how to on making jammies! Christmas anyone?
Here she shows you how to take an adult sweater and make one for your little guy.
Check out this cute tutorial and remaking an adult sweater into a boy's vest.
This amazing tutorial covers how to make and use a stencil with fabric paint on a basic tee. The second part of the tutorial on this website covers how to use print a picture and use it as a pattern to make a felt applique. Both very easy and doable. I am seeing cute new shirts in my boys closets. Hmm, need to go to Target and see if any plain tees are on clearance.
Check out this adorable tutorial for a pirate costume! I love her tutorials they are so easy to follow and allows something that my boys and I both love.
A tutorial for ties!
Pajama pant tutorial!
Couldn't do a picture but here is the link to make super cute super hero masks!