My etsy shop is SummerLightCrafts
http://www.etsy.com/shop/SummerLightCrafts?ref=seller_info
Blue Garden Glass Lampwork Bracelet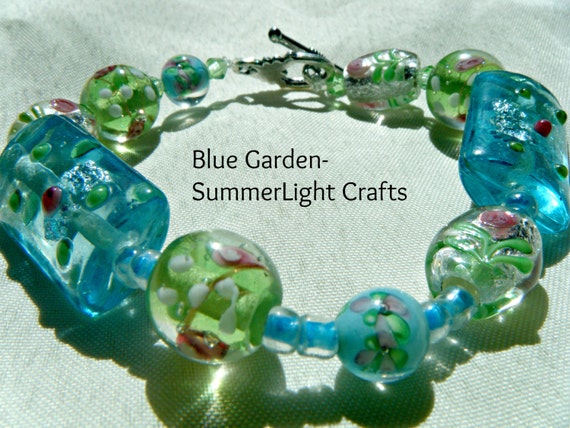 Who wouldn't want to wear a garden on their wrist? A constant reminder that Spring and Summer are always around the corner with long sunny days filled with the scent of roses.

Designed from green and blue lampwork beads this bracelet measures 8 1/2 inches in length. The bracelet can be customized for any size wrist. Created with Stretch Magic you can decide to slide the bracelet off and on or use the flowered silver clasp.

The beads are each an amazing piece of art. Long rounded robin blue beads contain silver foil for sparkle offset with a rose red raised circle cornered in green. Clear green beads contain rose buds. Sky blue beads contain petals forming flowers. Clear beads with a silver foil center feature blooming roses.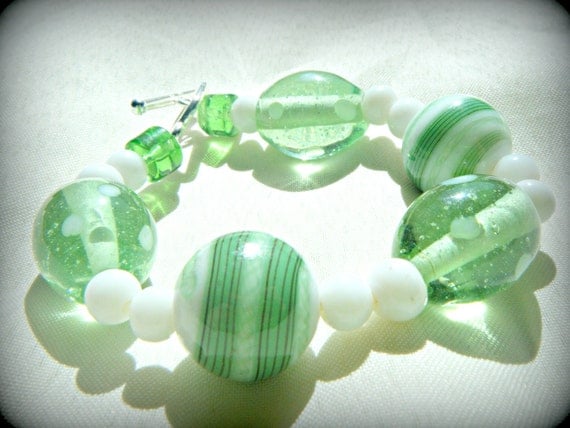 http://www.blogger.com/blogger.g?blogID=2831626132195897612#allposts
$7.99
Glass Lampwork Bracelet in vibrant shades of green offset with white glass beads. The clasp is a simple toggle to harmonize with classic shape of the beads.
This bracelet measures 7 1/2 inches and can be adjusted to fit your wrist. Made with Stretch Magic cord giving you the choice of sliding this bracelet on and off or using the toggle clasp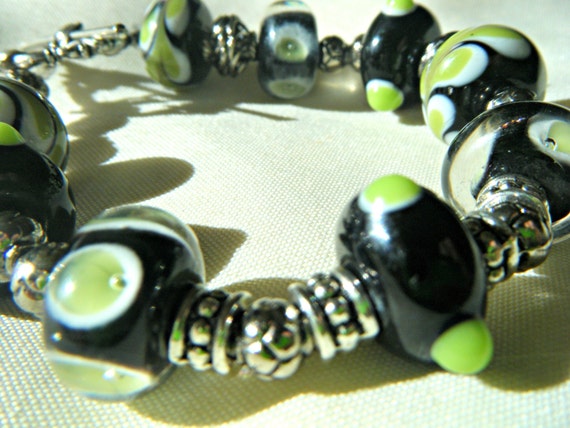 The Evening Garden features glass lampwork beads amid antique tone silver. Clear lampwork beads have a black center splashed with white centered in leaf green. Black lampwork beads are swirled with white in green, a vine wrapped around the bead. Black lampwork beads are dotted with 3-D spots of white centered in green. Antiqued silver beads add a splash of moonlight to the bracelet. The toggle clasp completes the look with an embellished antique silver finish. The look is complete with a silver leaf charm.

This bracelets measures 7 1/2 inches. If you are in need of a different size please let me know during checkout and I will adjust the bracelet to your measurements
This bracelet is $9.99
https://www.etsy.com/listing/153320687/glass-lampwork-bracelet-evening-garden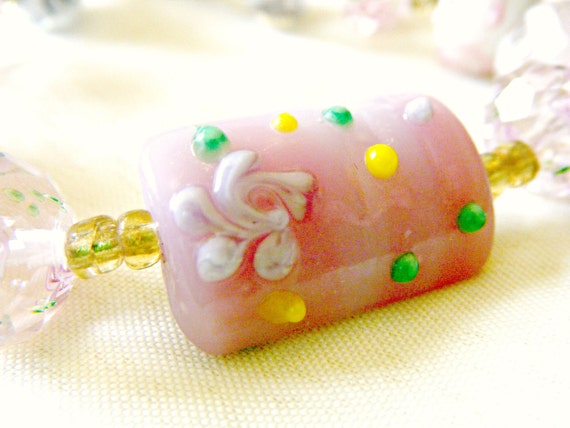 Each glass lampwork bead has a shade of pink to complete your outfit whether you are dressing up or down.

The center focal bead is a full inch of lavender pink glasswork bead with a swirled flower design accented with green and yellow. Prism shaped pink lampwork beads contain pink roses and green leaves. Set to the side are pink lampwork beads striped in white. Larger white glass lampwork beads have pink swirs amidst pink dots. Clear lampwork beads have a white center with swirls of violet.

This bracelet is 7 1/2 inches long. Created with Stretch Magic you can easily slide this masterpiece on and off your wrist or use the brass tone lobster claw clasp. Please let me know at checkout if you will need this sized up or down.
https://www.etsy.com/listing/153308152/shades-of-pink-summer-glass-lampwork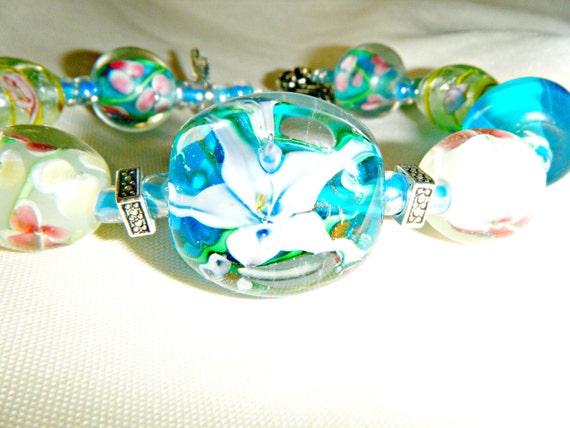 https://www.etsy.com/listing/153303370/secret-garden-glass-lampwork-bracelet
When you see this bracelet you will be taken away to a secret garden where the sound of water drifts by in the afternoon.
The Bracelet is 8 1/4 inches long. If this is too large or too small let me know at checkout what size you would prefer and I will create the perfect size for you. The bracelet was created with Stretch Magic to give you the option of sliding it on and off with ease or using the stunning clasp.
This bracelet is created from lampwork glass beads with perfectly blooming flowers inside. The largest focal bead appears to have a floating lily shaded in violet centered amidst blue. The side beads are a misty green with forget me nots. Past the solid blue beads that look like suspended drops of water are a longer misty green glass bead containing small pink roses. Next to the clasp are glass lampwork beads where the forget me nots appear above a blue background. The silver tone clasp is embellished in a floral and leaf design.
Garden Bracelet Sold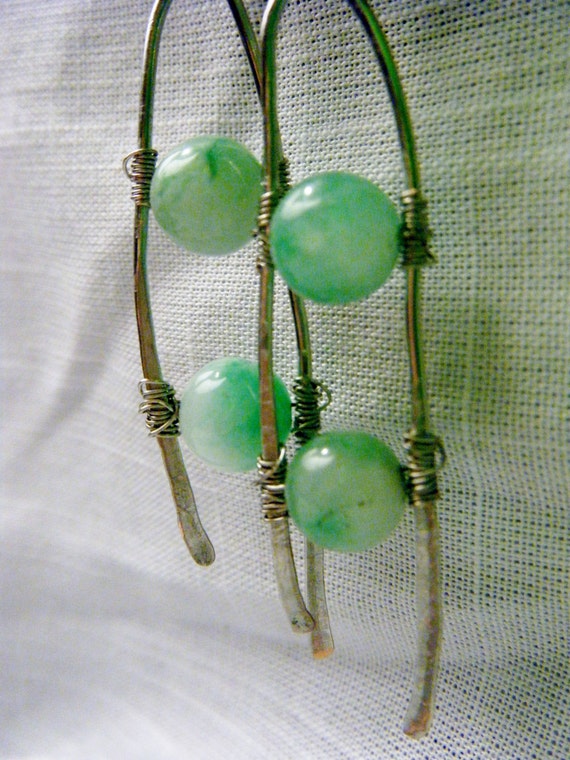 $14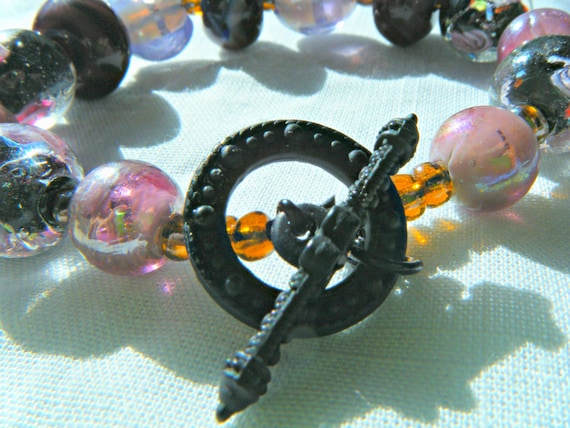 https://www.etsy.com/listing/153293323/lampwork-bead-bracelet-lavender-roses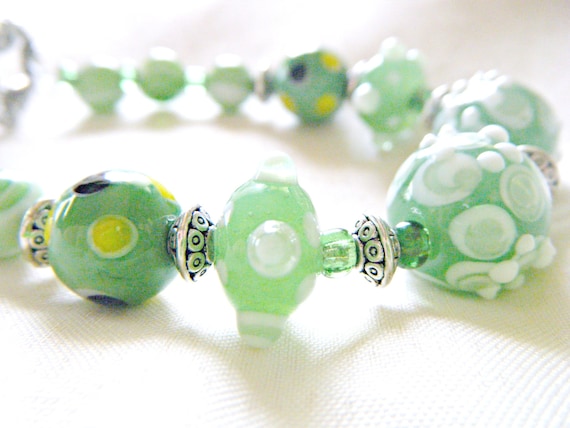 https://www.etsy.com/listing/153292648/sea-green-glass-lampwork-bracelet-w
Both amazing bracelets are $8.99.
S